SALES & INVENTORY SUPPORT
---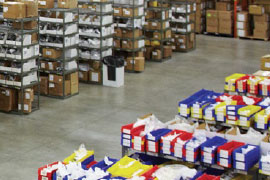 VENDOR-MANAGED INVENTORY
---
Our Vendor Managed Inventory (VMI) assures you'll always have the parts you need. We can stock your specified parts, often ready for same day shipping. We maintain the inventory levels according to your needs. It also lowers in-process/stock-related material costs. We can also facilitate your sales and purchasing process through our Electronic Data Interchange (EDI) system.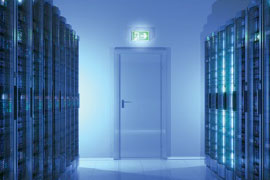 ---
EDI speeds up the ordering process, increases accuracy and prevents errors. It allows us to directly translate your sales request into our management software system. It saves the time of working with customer service as orders are electronically put into our system. And since the system is automated, it prevents human error in the transcription process of your order into our system.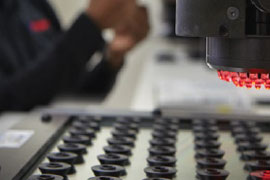 INCOMING QUALITY INSPECTION
---
Our new inspection facility ensures all incoming products conform to specified requirements. Micro-Vu Non-contact Visual Inspection Devices automatically measure parts for industry standards or your specifications. Shore A/M Durometers measure hardness, a physical property of rubber materials. Measuring specific gravity quickly verifies the compound type.